0203 991 1375
Conference Room Seating Guide

Meeting Room, Boardroom & Conference Room Tables
The meeting room, conference or boardroom is an important space for any business. It's where ideas are founded, decisions are made and staff and guests are hosted. Let us help you do it in style with our range of office tables. Whether you're kitting out a small meeting room or wondering if a meeting table for 20 people is going to fit into your space, we can help. We've put together some pointers and a simple guide to make it easy for you to create a beautiful space to get together, meet and collaborate.
---
Rectangular Boardroom Tables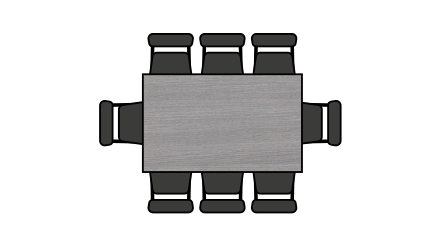 2m x 1.2m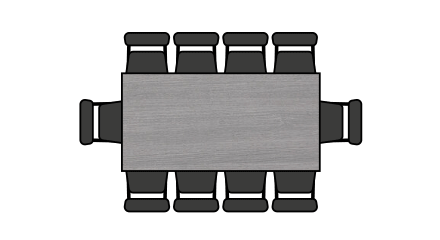 2.4m x 1.2m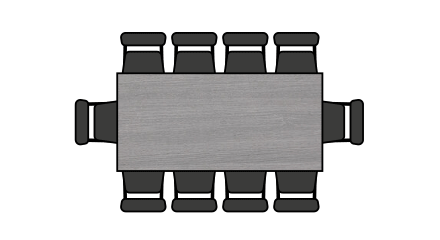 2.6m x 1.2m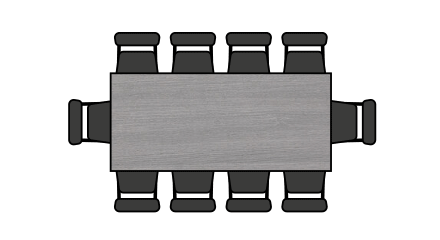 2.8m x 1.2m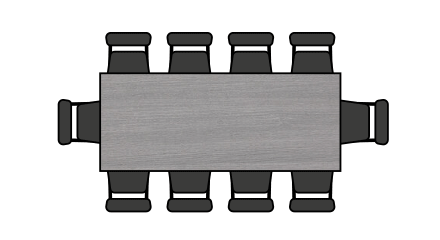 3m x 1.2m
3.2m x 1.2m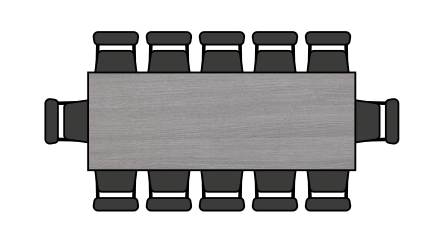 3.4m x 1.2m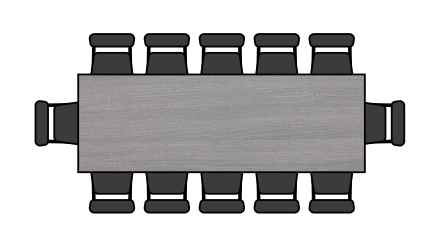 3.6m x 1.2m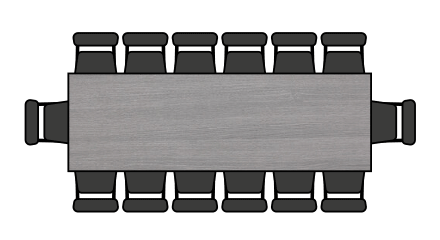 3.8m x 1.2m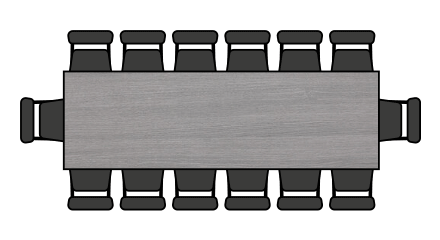 4m x 1.2m
---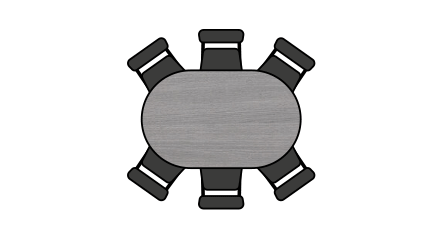 2m x 1.2m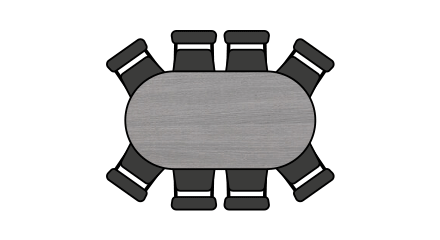 2.4m x 1.2m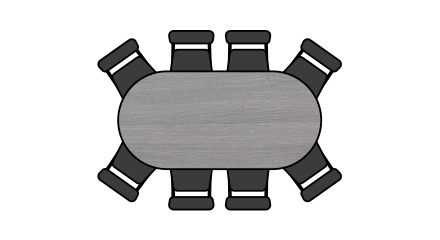 2.6m x 1.2m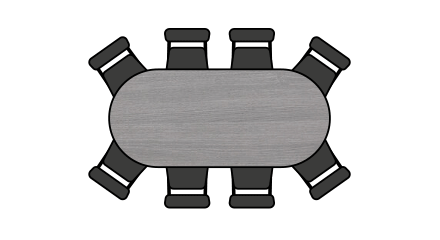 2.8m x 1.2m
3m x 1.2m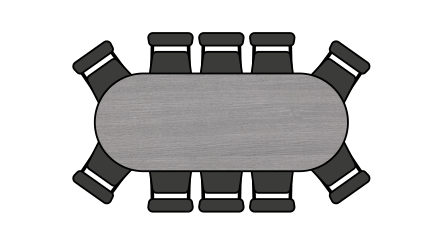 3.2m x 1.2m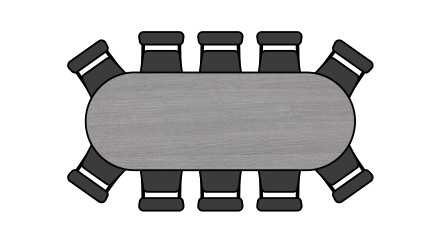 3.4m x 1.2m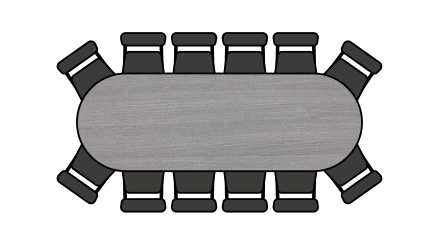 3.6m x 1.2m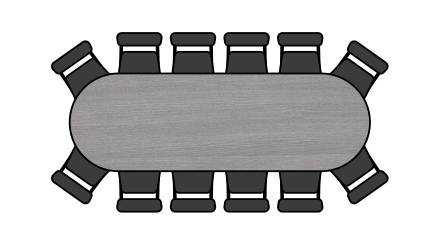 3.8m x 1.2m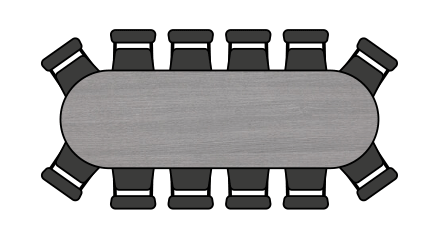 4m x 1.2m
---
Boat Shaped Boardroom Tables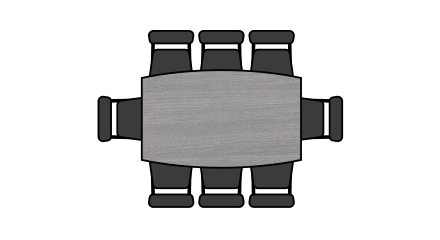 2m x 1.2m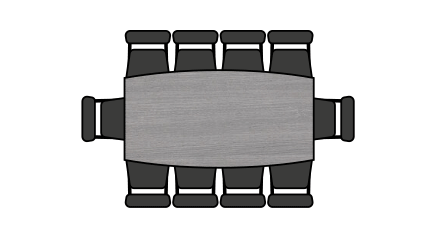 2.4m x 1.2m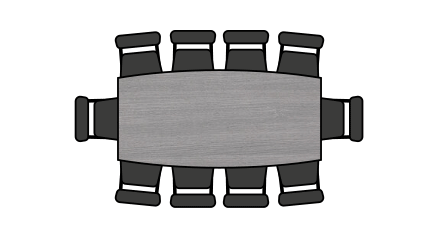 2.6m x 1.2m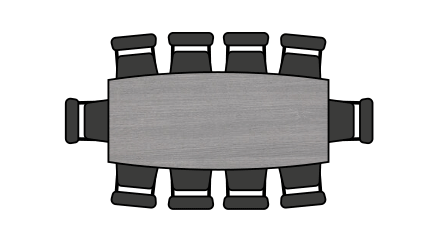 2.8m x 1.2m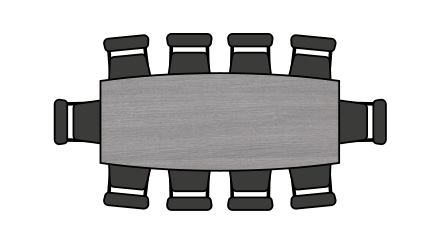 3m x 1.2m
3.2m x 1.2m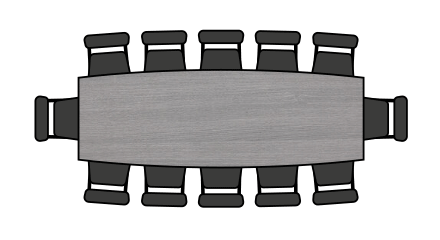 3.4m x 1.2m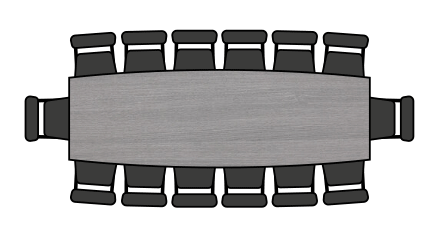 3.6m x 1.2m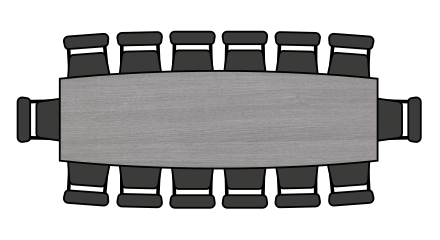 3.8m x 1.2m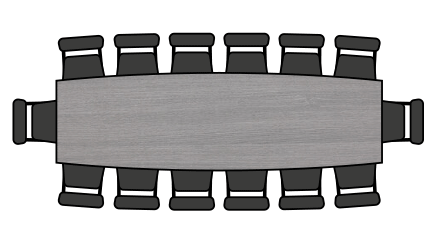 4m x 1.2m
---
Oval Shaped Boardroom Tables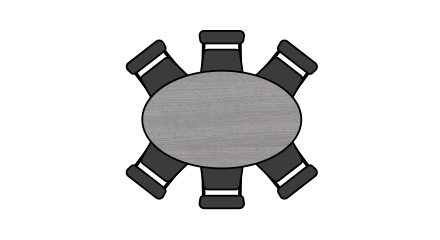 2m x 1.2m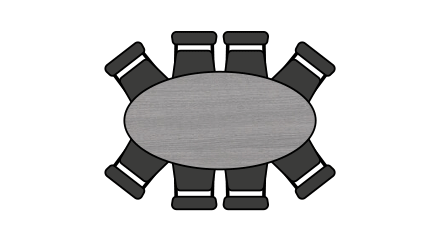 2.4m x 1.2m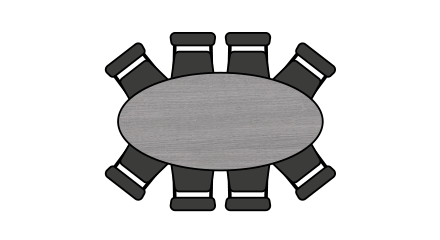 2.6m x 1.2m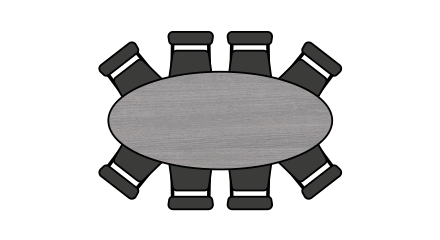 2.8m x 1.2m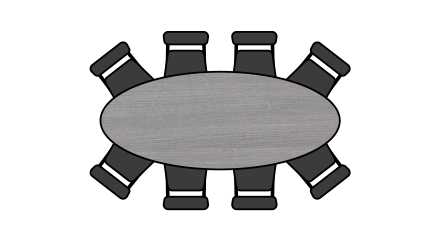 3m x 1.2m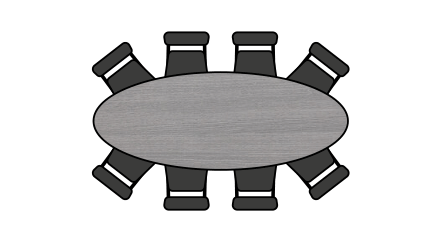 3.2m x 1.2m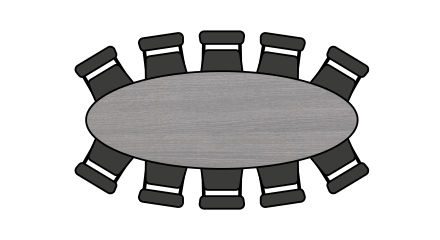 3.4m x 1.2m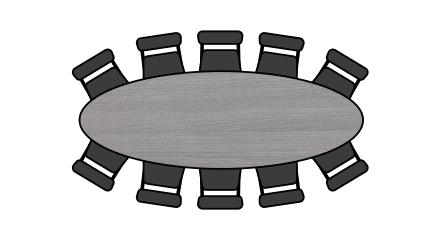 3.6m x 1.2m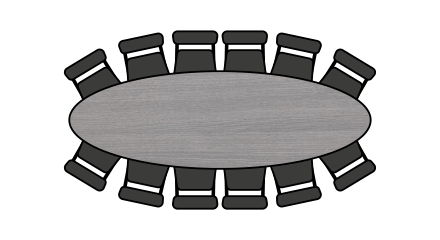 3.8m x 1.2m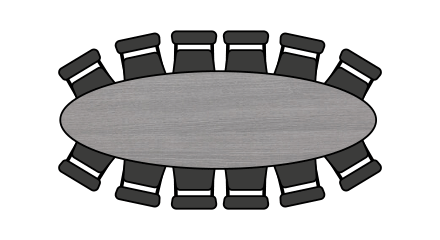 4m x 1.2m
---
80cm Diameter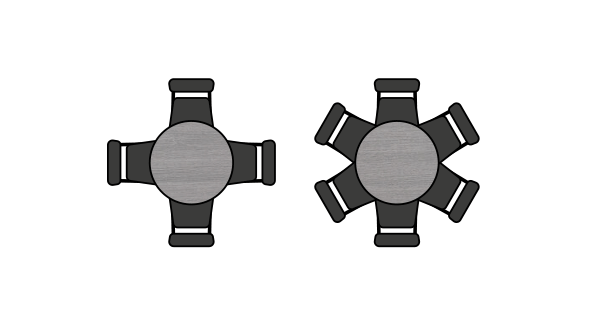 1m Diameter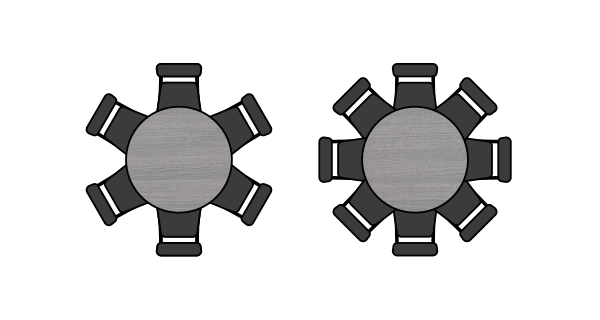 1.2m Diameter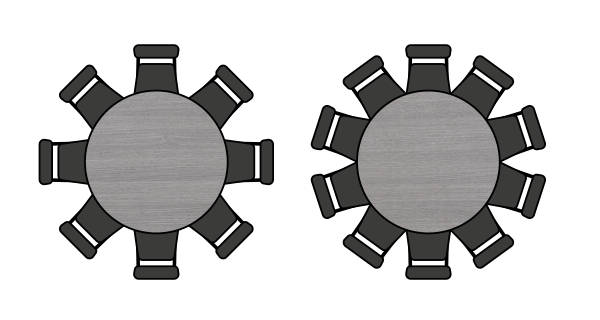 1.6m Diameter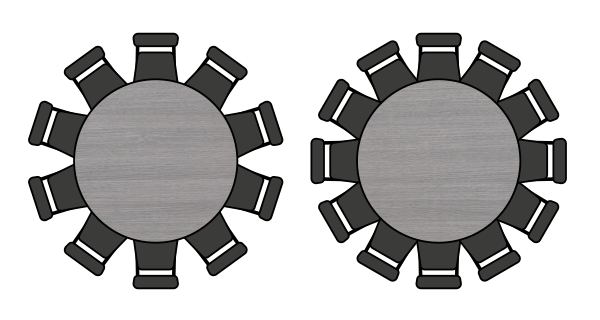 1.8m Diameter
---
Other things to consider:
Chair Proportion and Sizes:
The width of your meeting room chairs can make a big difference to how many people you can get around the table and how much space each person will have.For example a splayed leg chair, while they look fantastic, will take up more floor space than a straight leg chair. It's worth thinking about this when putting your space together. You want your attendees to have enough space to be comfortable, at ease and not too close to other delegates. Additionally, meeting chairs should be in proportion with the table size and style to create the right look and feel.
The average boardroom or meeting chair measures 500 to 550mm. The Boffins recommend allowing 800mm at the straight edge of the table per person. This leaves space at each side of the sitters so they can comfortably get in and out of the chair and have sufficient personal space.
Bear in mind that the overall width of the chairs you use with your boardroom table will determine how many chairs you can comfortably fit around and pushed under the table. Most boardroom chairs would have a width of 50-60cm, however some may be wider, exceeding 60cm, depending on the style of chair, whether it has arms or not, and what the leg design is, the leg design might impede on certain users being able to tuck themselves and their chair under the table.
---
Chair Spacing Guide
As an overall rule of thumb, we recommend allowing 80cm per user along the straight edge of a boardroom table, which allows 50-60cm for the chair width, and a minimum of 10 centimetres gap either side of the chair. However, we apprecaite that sometimes space is limited and if this is the case, the minimum space we would recommend allowing would be 70cm per user.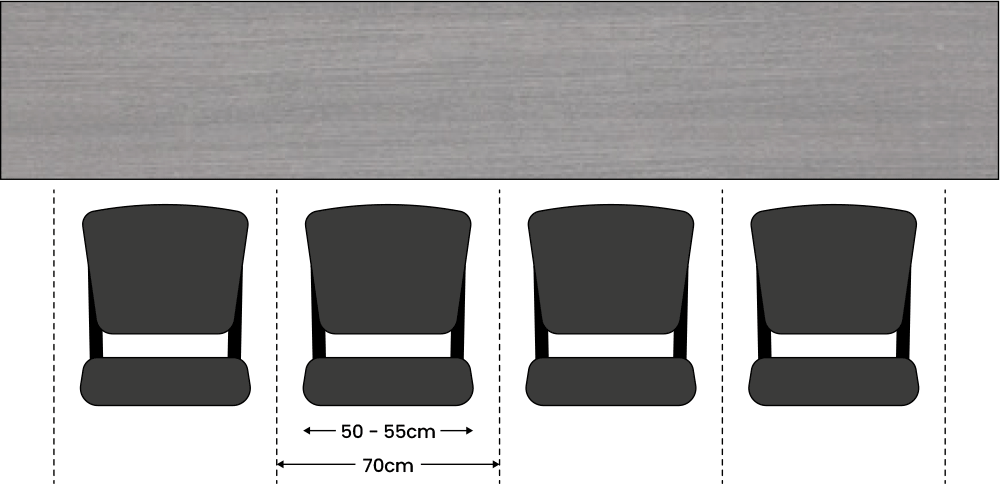 ---
Quick Guide to Room Dimensions
For office space, British standards fire regulations state that the space between desks be a minimum of 600mm, and 900mm for wheelchair users. For meeting and boardroom tables, we recommend a minimum 1000mm walkway between the wall or any other items of furniture such as meeting room storage and the table itself. This allows attendees to get in and out from the table freely and walk easily around it with the chairs pushed underneath. Allowing 800mm side to side per chair provides enough personal space for each sitter to be comfortable.
Pay attention also to the room entrance, the windows and any pillars or columns that will impact the placement and size of table and chairs.
---
Do I Need Power And Data In My Table?
These days technology really does take the lead in meeting and boardrooms, helping businesses connect and collaborate all over the world. Choosing the right solution means that customised power, data and HDMI can all be installed in your meeting or boardroom table. It can be open access, concealed or even pop up, depending on the look you are going for. Cable access, cable trays and cable risers might be needed to prevent wires and cables from trailing on the floor, keeping the space neat and safe for participants. If you are regularly presenting on a wall mounted screen, an office storage credenza can house your technology keeping wires and clutter out of sight. These are great also for storing glassware and crockery and even a fridge for providing refreshments during breaks.
---
Meeting Table Size And Seating Capacity Quick Reference Guide
We've put together these tips for quick reference purposes. Every meeting room is different and that is why we are here to help guide you. We'll be happy to help you with a meeting room space plan. Why not make a quick sketch of your room layout including doors and windows, pop in the measurements and email it to sales@officeboffins.co.uk and we can start planning your perfect space together. Please note, the information on this page is meant as a general reference guide. Office Boffins cannot accept liability should your table not fit in the space.
Number of Users
|
Rectangular / Boat / D-End
(mm) |
Oval
(mm) |
Round
(mm)
2-4
1200-1600 x 800-1200
NA
800-1000
4-6
1600-1800 x 800-1200
NA
800-1200
6-8
1800-2000 x 800-1200
1800-3000 x 800-1200
1000-1200
8-10
2000-2400 x 1200
1800-3000 x 800-1200
1600-1800
10-12
2400-3000 x 1200
3000-3600 x 1200
1800-2000
12-14
3000-3600 x 1200
3600-4200 x 1200
2000-2200
14-16
3600-4200 x 1200
4200-4800 x 1200
2200-2400
16-18
4200-4800 x 1200
4800-5400 x 1200
NA
18-20
4800-5400 x 1200
5400-6000 x 1200
NA
20-22
5400-6000 x 1200
6000-6600 x 1200
NA
22-24
6000-6600 x 1200
6600-7200 x 1200
NA
24-26
6600-7200 x 1200
7200-7800 x 1200
NA
26-28
7200-7800 x 1200
7800-8400 x 1200
NA
28-30
7800-8400 x 1200
8400-9000 x 1200
NA
---