0203 991 1375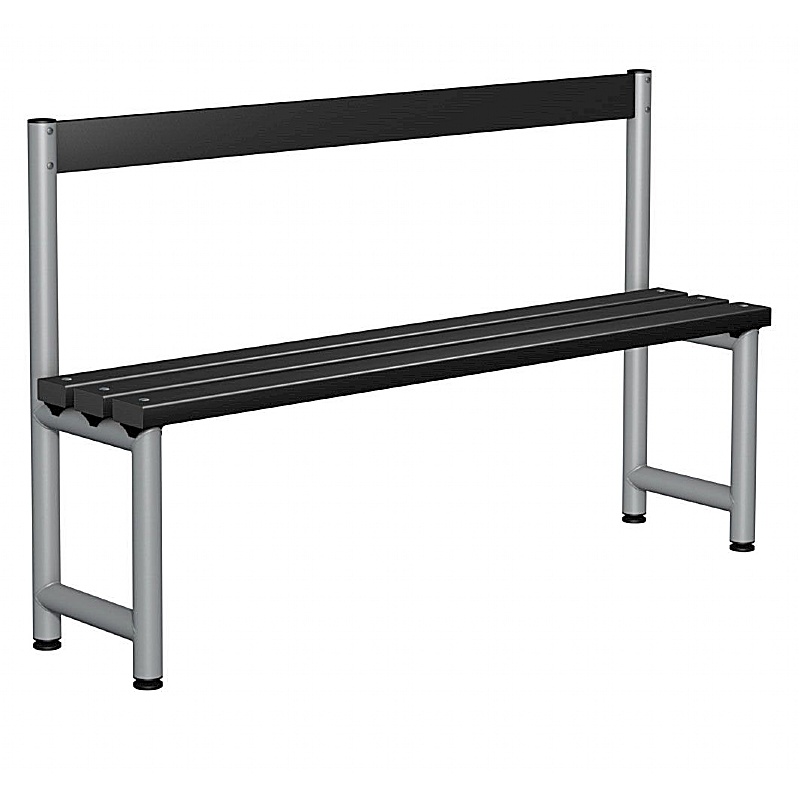 Single Cloakroom Bench Seats
Premium cloakroom low bench seats. Designed to create the easy accessible cloakroom seating where ever you need it. Manufactured by Probe right here in the UK. The frame and slats feature the super smart ActiveCoat Antibacterial powder coating. ActiveCoat is designed for use within the most stringent hygienic environments. It is a hard wearing, patent-protected anti-bacterial powder coating containing elemental Silver ionically bonded into a bio-compatible ceramic material known as a Zeolite. This impedes the growth and migration of potentially harmful bacteria, mould, fungi, algae and more reducing the risk of cross-contamination from surface to surface. Perfect for use within schools, nurseries and universities. Robust frames are designed to withstand the test of time. Cloakroom benches are available in a wide range of frame colours to suit your space.
Manufactured right here in the UK.
Freestanding low cloakroom benches.
Food grade polymer slats, manufactured with the same high performance anti-bacterial elements that go into all ActiveCoat powder coatings from Probe.
Robust 50mm round thick wall tubular frame.
Available in 3 different lengths.
Frames are available in a selection of popular ActiveCoat finishes.
Set on adjustable feet to ensure the benches stand perfectly straight.
Delivered fully assembled so you can start using them straight away.
To give you confidence in this product, components are guaranteed for 1 year. This excludes fair wear and tear.
Delivered assembled to the ground floor entrance. If you would like the benches taken into the building please pop us a message to Boffin central and we'll do our best to help.
This product is made to order especially for you. For that reason, orders cannot be cancelled once the manufacturing process has begun and they are non-returnable unless there is a fault.
Activecoat:
Anti bacterial coatings are essential where stringent hygiene standards are required, such as health care, education & catering.
During tests with MRSA & Ecoli, the coating achieved above 99.6% reduction in population within 18 hours.
Also effective against:
Aspergillus Niger (Black Mould)
Staphylococcus Aureus
(MRSA- Super Bug)
Pseudomonas Aeruginosa
Streptococcus
Escherichia Coli (E-Coli)
Antimicrobial efficacy will continue for the life of the coating.
| | |
| --- | --- |
| Dimensions | mm |
| Width | 1000, 1500 or 2000 |
| Depth | 310 |
| Back Height | 820 |
| Seat Height | 475 |
You may also be interested in the following products